---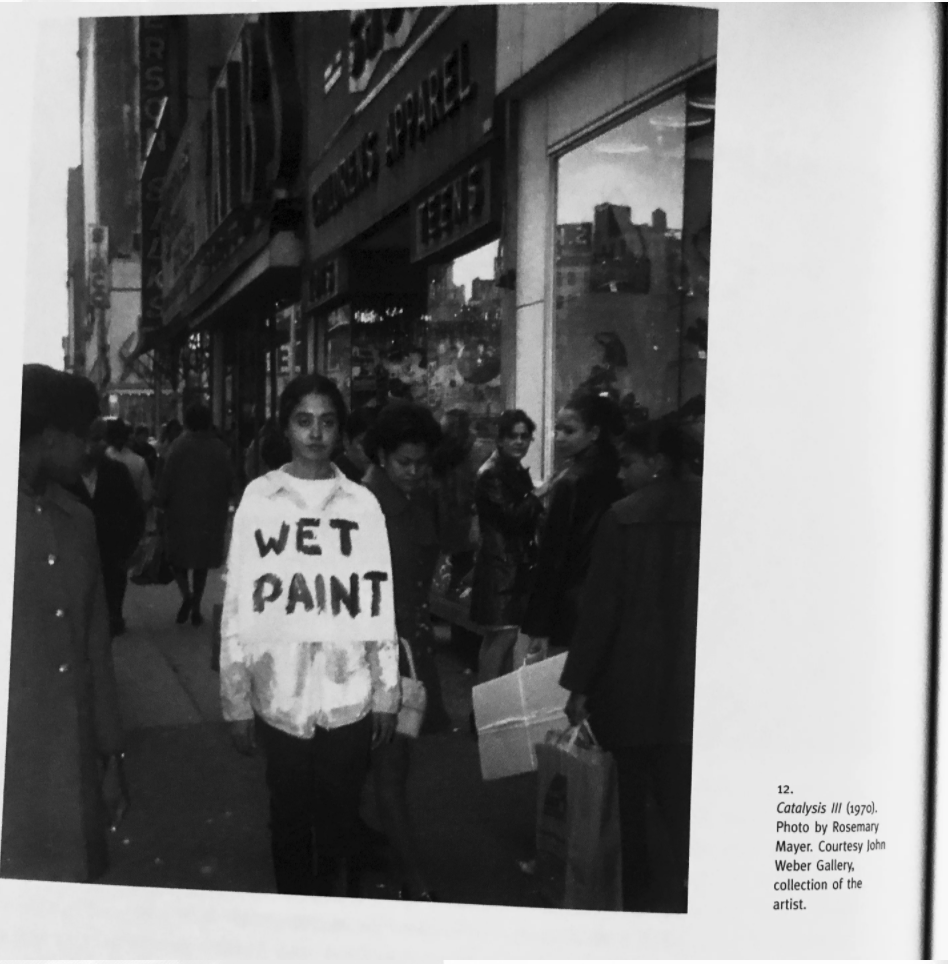 "Art contexts per se (galleries, museums, performances, situations) are becoming increasingly unworkable for me; they are being overwhelmed and infiltrated by bits and pieces of other disintegrating structures: political, social, psychological, economic. They preserve the illusion of an identifiable, isolated situation, and thus a pre-standardized set of responses. They prepare the viewer to be catalyzed, thus making actual catalysis impossible." Adrian Piper, on how she started to make work outside the "white cube".
Indeed, how to keep evolving within cultural organizations and institutions that are ever more eager to critically address within their program issues concerning our identities, our struggles, when those same organizations and institutions put up resistance whenever we question their own behavior with regard to those very issues? Do we still want to keep confronting them to make room for ourselves in a field that has just "not been built to accommodate us," to borrow Sara Ahmed's words? What systems are in place to allow such dissociations?

Ramaya Tegegne (she/her) is an artist and cultural organizer based in Geneva. Her work unravels the lived relations, narratives, selection and production conditions of art and culture in the current context. She aims to revalue collective practices and conversation. She had solo exhibitions at Künstlerhaus in Stuttgart, Istituto Svizzero in Milan, Ludlow 38 in New York, Kevin Space in Vienna, Galerie Maria Bernheim in Zurich and Fri Art Kunsthalle in Fribourg. Her performances were recently presented at Théâtre de l'Usine in Geneva, KW in Berlin, Kunsthalle Basel, Arsenic in Lausanne, Kunsthalle Bern, Gessnerallee in Zurich for the Swiss Performance Art Awards, Gasworks in London, Swiss Institute in New York, and at the Schinkel Pavillon in Berlin. She launched in 2017 the campaign Wages For Wages Against for the fair remuneration of artists. She co-founded in 2016 the art and critical thought bookshop La Dispersion in Geneva.
---
Making and Unmaking Exhibitions
Sustainability in Times of Planetary Crisis
The Centre culturel suisse. Paris and the design research and publishing platform Futuress now propose a series of lectures reflecting on a more sustainable cultural sector, which will take a self-critical look at the social and political ramifications of our quest for more just futures for all. Since sustainability touches on issues of climate, space, diversity, and social justice, the program invites curators, museum directors, artists, designers, and community organizers to tackle these topics from their varied respective perspectives.
A Coproduction by the Centre culturel suisse. Paris and Futuress.org
April 2, 2021 | 12:30 PM CEST
Srijan-Abartan: Workshop for Exhibition Making and Unmaking
Roundtable with Diana Campbell Betancourt, Prem Krishnamurthy, Dries Rodet, Inteza Shariar, moderated by Nina Paim
April 6, 2021 | 9 pm CEST
More of what we don't see
Lecture by Keyna Eleison, Co-Artistic Director of the Museum of Modern Art in Rio de Janeiro

April 20, 2021 | 9 pm CEST
Trees in Forests, Webs, Onions
Lecture by Lucia Pietroiusti, Curator of General Ecology at the Serpentine Galleries, London

April 27, 2021 | 12:30 PM CEST
Exhibiting for Earthly Habitability
Lecture by Fiona Cameron, Senior Research Fellow at the Institute for Culture and Society, Western Sydney University

April 27, 2021 | 9 pm CEST
Wet Paint
Lecture by Ramaya Tegegne, Artist and Cultural Organizer based in Geneva