---

Dear Asma,
I have been looking for you but, despite our hyperconnected world, I could not reach you. I tried to picture how our encounter would take place. A Zoom meeting? A phone call? An email exchange? I still hope that our paths will eventually cross, but in the meantime, I have decided to write you a letter.
My name is Mariangela, and I'm an Italian design researcher exploring the intersections of design, art practice and politics. I first encountered your name in Anne Feigenbaum's compelling book Tear Gas: From the Battlefields of World War I to the Streets of Today. "In an act of defiance that ignited the unions in Egypt," I read, "customs worker Asma Mohammed, a member of her union's women's committee, refused to process a shipment of seven tons of tear gas from Combined Systems, Inc." I was feeling helpless about the pervasiveness of tear gas and the silence that accompanies it, but your act of resistance was my wake-up call. Strange to imagine, but the shipping infrastructure of tear gas has brought me to you.
From trenches of World War I to today's streets and squares, tear gas has almost unanimously gained the stamp of "humane technology" for crowd control. Despite being banned as a warfare method at the 1993 convention of the Organization for the Prohibition of Chemical Weapons, it has since been repurposed as a riot control agent. Now it is utilized—quite profitably—for certain law enforcement purposes. The jump from considering the gas "inhumane" into it being "a sign of civilization" was relatively short, thanks in part to the polishing labor of design.


Deflecting the gas with words
According to Anne Feigenbaum, although the French police were experimenting with tear gas before World World War I, the conflict was its first major deployment. There were various attempts by the Washington Conference (1921–1922), the Geneva Conference (1923–1925), and the World Disarmament Conference (1933) to limit or abolish chemical weapons. Still, despite the public rejection of anything connected to gas warfare that followed the 1918 armistice, the political, economical and imperial interests involved in the flourishing chemical industry were too high to let the "moral dilemmas" prevail.
In the United States of America, General Amos Fries' effective campaign in the 1920s capitalized on "peacetime uses for wartime technology," which eventually flipped the perception of tear gas as barbaric and inhumane into a benevolent and "civilized" alternative for maintaining order. The initial skepticism of the British empire was also soon dissolved in the face of maintaining colonial power. Indeed, after a few deferments, in 1933 the British Cabinet granted permission for the first time to use tear gas in Palestine to control mobs, excusing its deployment with the narrative of "the humane weapon of choice."

The mystifying language surrounding tear gas accumulated consensus among the army and civilian populations that initially were against its use. This provided the groundwork for the legitimization of its use to contain civil resistance and collective actions. The name itself is mystifying. The generic term "tear gas" refers to a recipe of solid chemical compounds such as o-chlorobenzylidene malononitrile (CS), oleoresin capsicum (OC, pepper spray), dibenz [b,f]-1,4-oxazepine (CR), and 1-chloroacetophenone (CN) mixed with volatile solvents such as methyl isobutyl ketone (hexone) or pyrotechnic mixture. Together, they do not "just" make people cry; within a few seconds, they can cause burning lungs and breathing difficulties, coughing, choking sensations, chemical burns, vomiting, suffocation, severe allergic reactions, blistering of the skin, and in extreme cases, even death. Beyond these immediate effects, tear gasses can also cause anomalies that can result in miscarriage or harm to the reproductive system, as well as serious eye injuries including  blindness and glaucoma, chronic bronchitis, and respiratory failure. Such long-lasting effects from tear gas exposure, especially on women, children, the elderly, and persons with pre-existing symptomatology, have been documented—but long-term professional medical studies have been scarce to date. We simply don't know—yet—exactly what harm these "humane" weapons cause.
"Tear gasses are designed to render intolerable the very air we—living beings—breathe. They police the atmosphere and infiltrate the bodies. They poison not only the flesh but also the collective body, transforming the public assembly into toxic space."
Tear gasses are designed to render intolerable the very air we—living beings—breathe. They police the atmosphere and infiltrate the bodies. They poison not only the flesh but also the collective body, transforming the public assembly into toxic space. Perpetrating the white supremacist mission of "civilizing," neoliberal democracies continue to fuel their economies by exporting toxic agents—the category which includes tear gas, without caring to poison the democracies of others. The multibillion-dollars-worth market of tear gas sees the U.S.A. with the trio Combined Systems, Inc., NonLethal Technologies, and Safariland among the major manufacturers and exporters of tear gas, together with Israel's ISPRA, Germany and South Africa's Rheinmetall Denel Munitions, Brazil's Condor Non-Lethal Technologies, and France's SAE Alsetex, Verney-Carron and Nobel Sport. But production capabilities are now being globalized, and tear gas manufacturing takes place as well in most European countries, Canada, Turkey, India, and Pakistan, and across Southeast Asia the markets of China and South Korea are also rapidly growing.
To name but a few instances, in 2021 tear gas grenades were fired in the streets of Khartoum by Sudanese security forces to break up pro-democracy demonstrations, at the Polish checkpoint at border with Belarus by Polish forces to disperse migrants, and in Istanbul by Turkish police to push back thousands of people, mostly women, who were gathered for the International Day for the Elimination of Violence Against Women. Tear gas, along with live and rubber-coated bullets, was repetitively fired by Israeli military against Palestinians near the perimeter fence in Khan Younis, Gaza, calling on Israel for the end of the unlawful closure and blockade of the Gaza Strip. As canisters of repression travel quietly from one side of the globe to another, mechanisms grown out of colonial domination keep being reproduced.
The butterfly of Adabiya
More than ten years have passed since Friday, November 26, 2011, when the Danish-flagged general cargo Marianne Danica 114, after traveling for over a month from Wilmington, North Carolina (US), silently reached El-Adabiya in the Port of Suez. It carried 7.2 tons of "ammunition smoke"—technical jargon for chemical irritants and riot control agents such as tear gas, and also bullets, cartridges and shells, disguised as necessary tools for unwanted demonstrators.
"Dangerous cargo manifest," stated the shipping paper. Paradoxically, sea transport, which is internationally highly regulated, recognises tear gas as a hazardous material, but not for its actual use. Lachrymatory agents are listed under Class 6 of the United Nation "Transport of Dangerous Goods, Model Regulations," which includes toxic substances such as those used in tear gas canisters, and require special dispositions in terms of storage and crew qualifications for handling. Their carriage entails premium freight rates, and it is therefore a very lucrative business.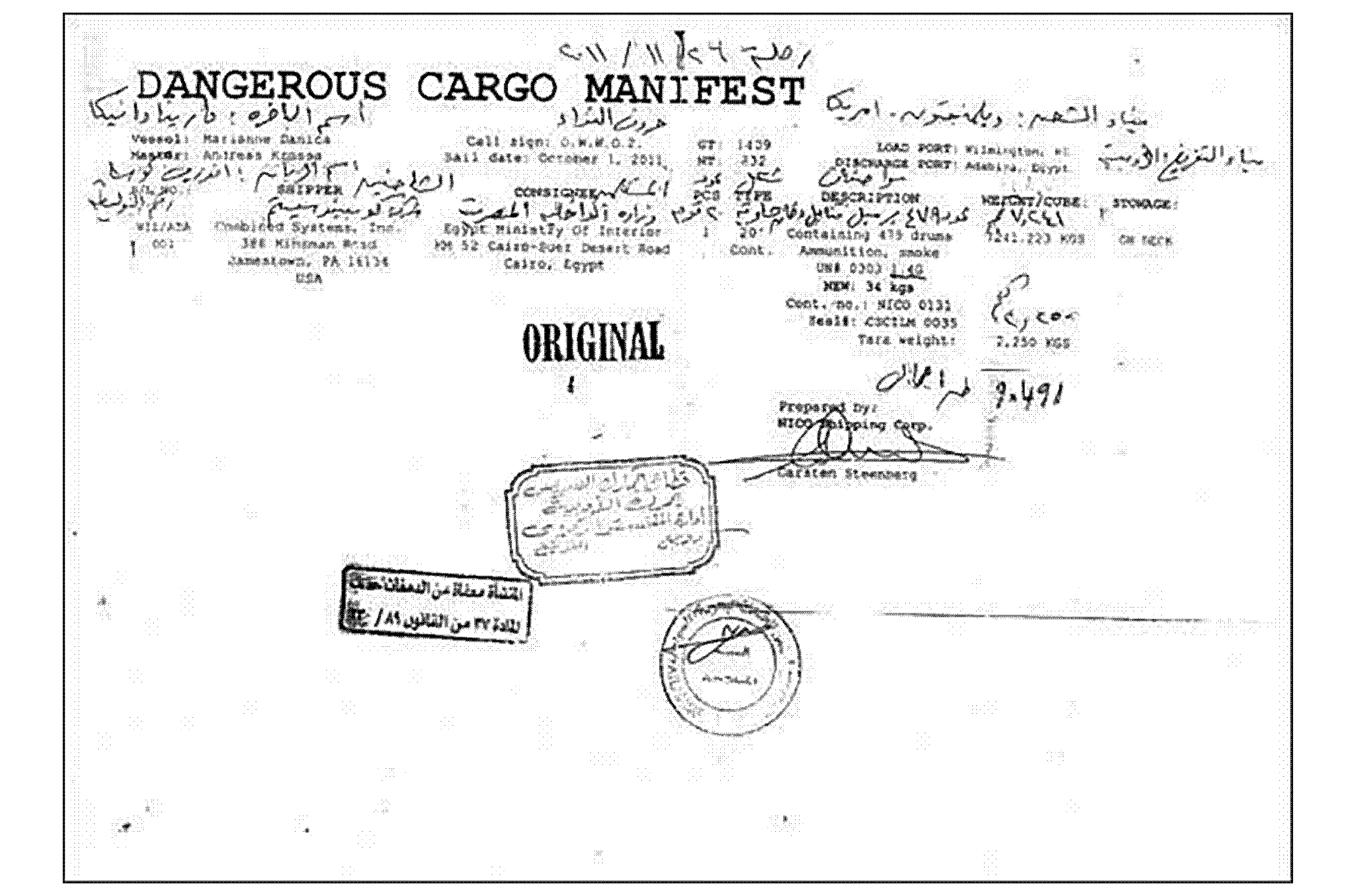 No one who was working at Combined Systems, Inc., a leading manufacturer in the U.S.A. of less-lethal arms and munitions; nor at Nico Shipping Corp., a U.S.-based defense logistics company; nor at H. Folmer & C., the Copenhagen-based shipping company in charge of the transport; nor the final client, the Egyptian Ministry of Interior, would have ever imagined to be put on hold because of you, Asma. "I refuse—because I don't want to be the cause of someone's pain or death," you explained to your boss. As simple as that.
From my bedroom in Berlin, so far away from the Customs Office in Adabiya Port, I tried to imagine your daily routine. I would have loved to hear your voice in conversation with author and National Field Organizer for War Resisters League, Ali Issa, but the link to "Tear Gas Not Welcome Here: an interview with Asma Mohammed, 2012 Peace Award Recipient" is broken. I read and reread your translated interview, searching for small details that could help me to carve a shape in my mind of your figure, your office, your boss that forced you to fill the form he was unable to complete, your coworkers who stood by your side refusing to continue the work that you left, by choice, undone.
When you voiced your "NO," the wounds of Mohamed Mahmoud Street from November 19, 2011 were still vivid to you and all of those who came together to ask for justice for the killings and violence inflicted by the police in Tahrir square. The heart of downtown Cairo had turned into billows of tear gas and blood. The walls captured the brutality of the repression by the Central Security Forces riot police, but also the ensuing popular resistance. Street art and graffiti popped up everywhere.
Street artist El Zeft stenciled on the wall of Muhammad Mahmud Street the face of Nefertiti protected by a gas mask to pay tribute to all the women who endlessly stood against injustice. Designer and researcher Bahia Shehab sprayed painted on the walls throughout Cairo calligraffiti "NO" in response to the violence, barriers, walls, killing, emergency laws, and abuse, burning books of those days.

Defiance has infinite ways to manifest. Your "NO," Asma, became the flapping of a butterfly's wings that produced a crack in the chain. So unpredictable as to appear random, your decision to leave the bureaucratic practice undone confused the system, generating chaos.
Despite your resistance and the great support of your colleagues, the shipment was eventually allowed in, and violence propagated once again in the atmosphere. But luckily there is a difference between outcome and impact. That missing signature produced a disruption that inspired solidarity and transformed into the collective effort that became known as The General Independent Union of Customs Workers. Colleagues working in the port of Suez, and also in Cairo, Alexandria, Nueba, and in all of Egypt's provinces, joined the union to have a real presence. As you explained: "We found that there was no one defending our rights, no one was going to give us our rights—whether at work, financially, or in the work environment itself, that it would be a positive environment for us—our right to speak."
One NO leads to a thousand more
Solidarity is not automatic. It requires commitment, imagination, and care for each other, as well as a good dose of courage. As activist and educator Angela Davis recalls in her 2015 speech at Boğaziçi University in Istanbul, Turkey: "We will have to go to great lengths. We cannot go on as usual. We cannot pivot the center. We cannot be moderate. We will have to be willing to stand up and say no with our combined spirits, our collective intellects, and our many bodies."
"Solidarity is not automatic. It requires commitment, imagination, and care for each other, as well as a good dose of courage."
This is what people from Turkey to Bahrain, from Palestine to the U.S.A., from Egypt to Hong Kong, have been doing to protect from tear gas and resist the system behind. In the struggle, techniques have been invented, materials hacked, and information strategically shared to support each other transnationally. Blogs, Twitter accounts, and hashtags circulated the web gathering information to identify riot-control weapons and share remedies.
"Don't keep much distance from the police. If you're close to them, they can't tear gas," "Remember to not touch your face when tear gassed," "Diphoterine solution: vinegar, vaseline, milk and lemon juice solutions. Maalox diluted with water"— these were but just a few first-hand pieces of advice tweeted by Palestinians on how to deal with tear gas and police brutality.
They recognized the Combined Systems, Inc. tear-gas canisters fired against protesters in Ferguson, Missouri, during 2014 uprisings that ignited after the deadly shooting of Michael Brown. It was the same technology of violence used by Israeli forces to suppress resistance of the population of occupied Palestine. The same one that you tried to block.
Ten years have passed since you, together with your coworkers at El-Adabiya Port of Suez, were honored by War League Resistors with the Peace Award in 2012. Do you still live in Suez? I wish I knew more about you. Apart from the bitter taste of not being able to address you, a question keeps resonating in my head: what would I have done if I were you?
Your decision—your defiance—has given me courage. Now, I, too, am teaching myself to say the most clear: "NO, and a thousand times NO."



---
Mariangela Beccoi (she/her) is a designer and researcher. Exploring the intersections of design, art practice, and politics, she engages critically with the everyday, deconstructing objects and spaces to unfold protocols of control of bodies and objects. Starting from the assumption that each artefact is inherently political, she shares this idea of design as a powerful language that underscores the hidden relationship entangled in our (immaterial) immediate environment. To make it debatable she uses performance, installations, and text to create narratives around current political issues. Her purpose is to disrupt an old-fashioned (though very much alive) notion of design as an isolated bubble, floating independently from current events, that promotes progress as continuous positive innovation. She is currently active as researcher and curatorial assistant in Berlin.

Title image: A Boy Confronts Egyptian Military Police South of Tahrir Square, 2011 (Photograph by Alisdare Hickson, Source: Wikimedia Commons)